All Night Study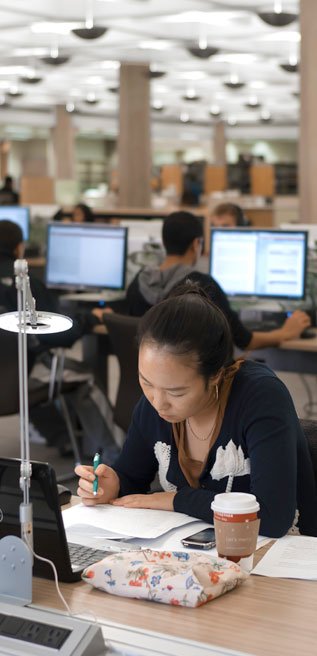 The 1st Floor Reading Room of the Joseph Regenstein Library is open to University of Chicago students, faculty, and staff 24 hours a day from Sunday at 10 a.m. through Friday at 11 p.m. during the fall, winter, and spring quarters.
All other areas of Regenstein are inaccessible after the building closes.

During interims and the summer quarter, the Library does not provide an all night study space.
Admittance to All Night Study
If you are in Regenstein at closing, simply make your way to the 1st Floor. You may be required to show your UChicago Card to the all-night study attendant to verify your right to access the space.
Please note that after closing, you cannot access any other area within Regenstein. Please make certain that all of your belongings are on the 1st floor at closing.
To be admitted to the all night study space after closing, ring one of Regenstein's outside doorbells (both the east and south entrances have doorbells). Show your UChicago Card to the building's entry control attendant to be admitted. You will then need to tap your UChicago Card at the main entrance turnstile as usual.

Using the All Night Study Space
Patrons using the All Night Study space are expected to follow all Library policies, including the food & drink policy. The Ex Libris cafe seating area is available during all night study hours for eating meals and messy or smelly foods. Vending machines with snacks and drinks are also available in Ex Libris during all-night study hours.
The entire 1st Floor Reading Room is designated as a Collaborative Zone and a Cell Phone Zone, so you are welcome to work in small groups and to talk quietly on your cell phone. Please consider others using the space and keep talking and other noise to a reasonable volume.
If a particular group or person is being disruptively loud, you are encouraged to ask for assistance from the all-night study attendant, who will speak to persons or groups who are being excessively noisy.
The Cathey Learning Center, managed by the College, offers another all-night study space on campus, which provides spaces for both quiet, individual study and spaces for group work.
If you have questions about the All Night Study space, send them to all-night-study@lib.uchicago.edu.